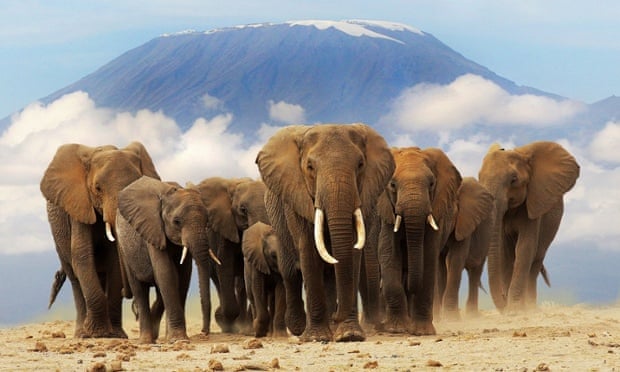 Reports from the Convention on International Trade in Endangered Species (Cities) show that
80% of ivory seizures
occur in Tanzania, Uganda and Kenya, my country. The amount of illegal ivory in Kenya, mostly en route to China, has come as a surprise to many Kenyans, who were for decades fed the narrative of a wildlife-friendly country with zero tolerance for offenders.
For conservationists and those on the frontline against poaching official figures are difficult to confirm because of the lack of transparency in the collection of the data. Furthermore, although ivory seizures are occasionally reported, the disposal of the stockpile, unlike the public destruction of illicit drugs and weapons, takes place away from public scrutiny.
The effect of the illegal ivory trade is being felt across Africa. In just one park in Tanzania, Selous,
67% of the elephants
(pdf) were slaughtered over a four-year period. Ongoing surveys and reports are revealing the near annihilation of elephants in Democratic Republic of the Congo and the South Sudan.
In Uganda, a recent audit revealed that 1.3 tons of ivory was missing from the national stockpile; while a
report
by (pdf) the UK-based Environmental Investigation Agency (EIA) in Tanzania revealed the China connection in ivory trafficking. It was reported, but unconfirmed, that during a recent visit by Chinese dignitaries' local ivory prices went up by 100%. The Chinese government denies this.
Meanwhile, horrific news has just emerged that in Zimbabwe,
34 baby elephants have been kidnapped from their families
to be sold into a life of slavery in zoos and circuses in China and the United Arab Emirates. Some of the babies have already died from the emotional trauma while in their holding cells.
Incredibly, African leaders have been silent on all this despite the many opportunities at regional meetings to address the alarming rise in the use of militias to slaughter elephants. The loss to
Africa
and the cost to our development runs in the billions of dollars. How could such an important issue not be a major agenda item at African regional political meetings?
Apart from Prince William's and Hillary Clinton's leadership on this issue, western governments have yet to deliver on promises to fund elephant conservation in Africa. These leaders could do much more by marshalling political support, supporting good indigenous organisations and forging mentoring partnerships. It is in everyone's interest to prevent these species from going extinct. They are our global heritage.
This does not let African leaders off the hook. They recently addressed the Ebola crisis by recognising the threat and seeking help, and the assistance began to flow immediately. Why can't they do the same with this crisis?
Kenya's first lady, Margaret Kenyatta is one of the most vocal African leaders on the subject. As patron of the
Hand Off Our Elephants
campaign she has broken traditional roles to become the first
First Lady in Africa to champion
an animal cause. But other leaders are silent. Why?
What is seen by many as a genocide of elephants is not getting attention because it is viewed as "just a conservation concern". But this is much more than that, this is a political and economic issue that is driven by the unbalanced relationship with Africa's fastest-growing development partner,
China
.
I believe it will take a complete transformation of hearts and minds for African leaders to wake up and take charge to end the slaughter of our magnificent elephants. Our leaders must employ their collective bargaining power to say no to the demand for ivory in China. It will take enormous courage and pride in our natural resources, something that African leaders do have in abundance. This paradigm shift must be driven by demand from African people themselves. Until this happens, the only winners in this game will continue to be the ivory dealers.
CALLING YOUR ATTENTION ON OUR AFRICAN WILDLIFE CRISIS AND CRIME ONCE AGAIN,
Let's make South Africa, the whole continent and the whole world a better place in 2015. For that I wish us all health, wealth, contentment and peace.