Dear friends across South Africa,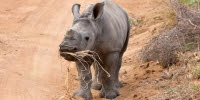 The Hluhluwe-iMfolozi park in South Africa is under threat. A coal mine may be built just 40 metres from the world's greatest rhino sanctuary! But South Africa has a brand new Mines Minister who does not want a scandal. Let's make this the first issue he has to tackle and stop the mine! Sign now:

The world's greatest rhino sanctuary is under threat. Plans are underway to build an open-cast coal mine just 40 metres from
the Hluhluwe-iMfolozi park. Rangers fear it will destroy the wilderness and clear the way for poachers, who have
butchered nearly 400 rh
inos in South Africa thi
s year alone
,
but we can stop it if we act now.
Conservationists, scientists and local communities all oppose the mine and are shocked that the government has allowed it to progress this far.
But a new Mineral Resources Minister is starting this week, and i
f we all speak out we could make stopping this rhino threatening mine the first issue on his desk.
The Minister will want to win hearts when he first comes into office.
Let's make this mine publicly toxic.
Click to join the urgent call to save the rhinos, and then tell everyone. If we reach 100,000 signatures this week, Avaaz will welcome the new Minister to work with a herd of cardboard rhinos
:
http:/www.avaaz.org/en/rhinos
Hluhluwe-iMofolozi is the oldest natural park in Africa,
credited with saving the white rhino from extinction.
It is also one of South Africa's greatest natural treasures - home to a wealth of wildlife and one of the last patches of true wilderness left in the country.
And it could be destroyed by yet another coal mine, which would pollute the surrounding area and potentially poison the world famous iSimangaliso wetlands downstream.

The government has misjudged how much South Africans love this park -- and a broad coalition is leaping to its defense. Local communities and even the traditional owners of the land were kept in the dark and are some of the fiercest critics of the dirty development. Now they are fighting back. They do not want to be relocated to make way for a massive mine.
They need our help to stop their homes and fields being bulldozed and blasted, and their communities uprooted.
We can help them to defend their rights, preserve the iMfolozi wilderness and protect its endangered rhinos.
Together, we can show the government that
South Africans value their remaining natural heritage far more than coal.
Add your name now and we will create a storm around the new Minister
that will force him to scrap this project and forbid any future mining within the buffer zone around the park.

http://www.avaaz.org/en/rhinos_worst_neighbour_sa_2/?bPuUgeb&v=40219
When Avaaz launched a campaign to stop the lion bone trade in South Africa -- we forced a landmark decision in South African court, enshrining free speech and fearlessly taking on the SA government. Now let's bring the same people power to save a priceless patch of wilderness for future generations,

With hope and determination,

Richard, Emily, Sam, Alice, Rewan, Mais, Marigona and the whole Avaaz team

MORE INFORMATION

Proposed mine to despoil nature (The New Age)
http://www.thenewage.co.za/125334-1007-53-Proposed_mine_to_despoil_nature
Untested new South Africa mines minister faces baptism of fire (Reuters)
http://www.reuters.com/article/2014/05/26/safrica-cabinet-idUSL6N0OC2HQ20140526
Alarm over proposed mine produces 500 signatures (IoL Business Report)
http://www.iol.co.za/business/companies/alarm-over-proposed-mine-produces-500-signatures-1.1682966#.U3GB-K2Sz1w